It's been a while since I did a 7 Quick Takes post, so I thought I'd do one this week... on seven random ways I would finish the sentence, "I never..." It's come to my attention that some of the things I don't do and still dare to consider myself normal might be a little odd. So read on and tell me what you think.
1. Okay, I'm going to get the biggest one out of the way first, and this one is HUGE. As in, better have the smelling salts close by. Ready?
I never watch Downton Abbey
.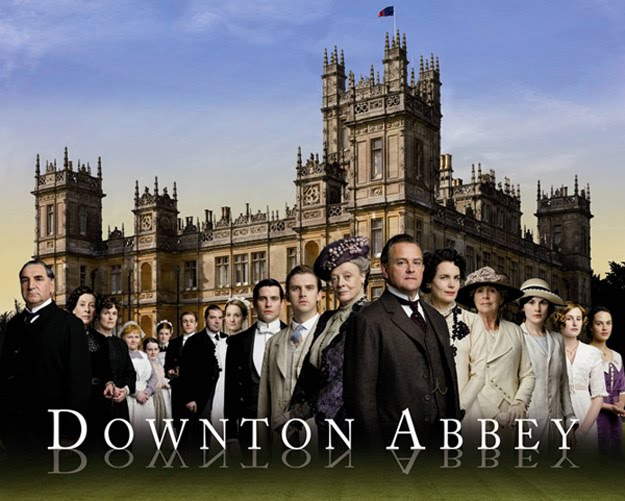 There, I said it. And I hear your screams of horror. And furthermore, while I'm making shocking confessions about T.V., I didn't watch the Superbowl this year. (We cancelled our cable.) I think I can make a pretty convincing case about why skipping the Superbowl is just fine. But aside from the fact that I do tend to be underwhelmed by things that
everyone
is raving about, I feel a bit guilty about not watching
Downton
. Because I'm sure it's really good. And I can watch it without cable.
I've
almost
watched it a bunch of times. I just feel like I'm already distracted by so many things rather than what I need to be focusing on most, and my kids are growing up so ridiculously fast, and gosh, there are a lot of books I want to read, that I don't want to be hooked on one more distraction. Maybe one of these days, instead of trying to pick from the dearth of recently released movies, we'll start watching it. We'll pace ourselves and be disciplined? Hmm...
Maybe
. But based on the Facebook comments this week about the Season 3 Finale, I'm just not sure I want to get into it, no matter how good.
2. Less shocking now.
I never had an epidural.
Four babies, no epidurals.
My most recent epidural-free baby (birth story here)
It's not for any kind of bragging rights, though. And no, I'm not one of those super earthy women that doesn't shave her armpits. I've just had some weird reactions to anesthesia when I had dental work and minor surgery. When I was having Jayna, I did have one of the -ols -- Staidol or Demerol. It was supposed to "take the edge off." I didn't notice any less edge, but it was like those 80's ads, "This is your brain. This is your brain on drugs." I'm talking hallucinations, then "coming to" at the height of one of my supercontractions, and totally panicking. It was horrible. And the worst part was how loopy and tired I felt when she was born. (This could also have had something to do with being in labor all night and pushing for almost two hours.) I literally couldn't even get my arms to hold her, and I passed out almost immediately.
I now tell expectant mothers to either get the epidural or nothing at all. But for me, I know how my body reacts to pain better than how it will react to anesthesia. And the thought of trying to stay still during a contraction while having a giant needle inserted into my spine... now
that's
scary.
3. While we're talking about babies...
I never used a Boppy
. I wouldn't consider this weird except that pretty much every mother I know would put a Boppy on their "must-have" list for new mothers, especially if breastfeeding. Well, I've breastfed four babies for over a year each,
sans
Boppy. I didn't get one for my baby shower with Jayna and sure didn't buy one. When you're not sure you can afford $20 for a couple of those plastic under-bed storage boxes to put your baby's diapers and clothes into, you just don't think about forking over any cash for a pillow. (For the record, I've also never used a "Hooter Hider" or "Udder Cover." Nope, not once. Though I do cover up with a little blanket as much as possible.)
4.
I never went to North Dakota
. I've been to forty-nine states and about thirty countries... but not North Dakota.
This is me with my big sister, not in North Dakota
It doesn't help that my friend
Jamie
, who lives there, keeps posting pics of her car thermometer reading temperatures like -20 or something crazy like that. The coldest temperature I've ever experienced was -11. I'd landed in Minneapolis, and this was back in the day when you could go outside the airport during long layovers without worrying about the horrendous security line. So I decided to see what -11 felt like. It felt like death, okay? I thought my lungs had frozen. So -20? Or -40??? YIKES!! But if someone can guarantee that I won't experience such horrendous temperatures, I might be convinced to drive through North Dakota this summer when we
move
.
5.
I never go to the gym
. This is not to say I don't work out; I do, five times a week. But not at the gym. The thing is, I've had gym memberships before, and by the time I load everyone and everything into the car, drive to the gym, and get everyone checked in, I could have a half a work-out done at home. And then you get paged to pick up your baby because his/ her crying is freaking out the other kids. No, thanks. I work out some days with a baby clinging to my leg and often have a dog licking my face while I do floor work, but I get it done. And it's cheaper.
6.
I never wax my eyebrows
. I didn't think this was a big deal, but hearing my friends talk, I'm about the only woman in the world who actually still uses Tweezers. I guess I'm a cheapskate, though, and also too frugal with my time. I didn't have a professional manicure or pedicure till after I turned thirty, and have only had two. And overall, I think I like my homemade Sally Hansen pedis better.
7.
I never get drunk.
Being drunk just doesn't appeal to me. I do very occasionally drink a little, like the other day when Matt and I finally decided to open the bottle of champagne we'd bought for New Year's. We paired it with a very fine meal of veggie dogs and oven fries, because we're classy like that.
So what do you think? What's the verdict? Am I crazy? Or can you relate? How do you finish the sentence "I never..."?